Find The Best Truck Driving Schools Near You
      Find the best truck driving schools near you with our state-mapped list of trucking schools. Free CDL Guides, free CDL Practice Tests, free loans, grants, and paid training information. It's all here.
Our state-mapped truck driving school directory includes school links, contact information, and a list of truck driving schools that have been rated and reviewed by the students themselves using a 5 star rating system. 
Need financial help to make it through trucking school? Read our helpful article that shows you How You May Be Able To Go To Truck Driving School For Free using federal and state grants.
Our Free State Specific CDL Help Guides take you through the entire step-by-step process of obtaining your Commercial Learners Permit and Commercial Drivers License. We've even included all the DMV forms, manuals, and CDL test aids you will need for your state, as well as a map of DMV locations that administer both the CDL written tests and the CDL Skills Test. All on one easy to read state-specific page.
Our Free CDL Practice Tests will help prepare you for the CDL knowledge tests and are optimized for mobile phones and tablets so you can take the practice tests with you wherever you go.
Our state specific list of Truck Driving Schools That Have Been Rated By The Better Business Bureau shows you which trucking schools have the best track record.
Find out which trucking companies are hiring inexperienced drivers and how you can beat out the competition and acquire the best truck driving jobs with no driving experience whatsoever.
Truck drivers, use our Traffic and Weather Map to see what the up-to-the-minute traffic and weather conditions will be like on your destination route.
Our mission is simple. We do all the CDL training research so all you have to do is focus on becoming the best commercial truck driver you can be!
Usted puede cambiar el texto en esta página a español con el botón Google Translater ubicado ya sea en el izquierdo lado o el inferior de esta página web.
Find Local Truck Driving Schools 
      Let's face it, if you don't have the proper CDL training, obtaining your commercial drivers license and operating a commercial motor vehicle can be a daunting and confusing task. Finding the right truck driving school is your first step in pursuing a successful truck driving career. That is why we have searched the web high and low to bring you one of the most comprehensive up-to-date directories of truck driving schools in America. 
To see a state-mapped list of all the truck driving schools in your area, simply click on your state below.
The Trucking Industry      
      Have you ever heard the adage, "If you bought it, a truck brought it"? That's never been more true than right now. According to Wikipedia, over 80 percent of all communities in the U.S. rely exclusively on trucks to bring all of their clothing, food, fuel, medicine, and other consumer goods. In May of 2013, the Bureau of Transportation Statistics estimated that the trucking industry alone carried more than 60% of the roughly $98 billion worth of freight transported between the United States, Canada, and Mexico. When it comes to bulk freight transportation, no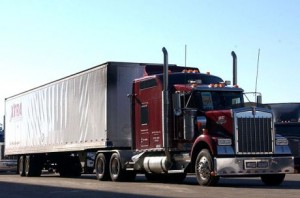 other mode of transportation even comes close! 
      If you are contemplating becoming a professional truck driver, you have chosen the right career field. In fact, with the shortage of truckers at an all-time low, and the trucking industry job market continuing to grow at a steady pace, there's never been a better time to pursue a career in truck driving than right now. The U.S. Bureau of Labor statistics has reported that the employment of heavy and tractor trailer truck drivers is expected to grow by 11 percent from 2012 to 2022, with over 1.5 million trucking jobs as of 2013. The median salary for a professional truck driver was $40,940 per year and $19.68 per hour. As the weak U.S. economy continues to strengthen, the demand for goods, and those who transport those goods, will continue to grow.
Truck Driving Schools
     So, how exactly do you become part of the driving force behind this ever important multi-billion dollar industry? Simple. All you need is a commercial drivers license (CDL), adequate physical health, and the ability to operate a commercial motor vehicle. How do I go about obtaining my CDL, you may ask. Well, that's where things start to get interesting. You essentially have two options. You can go through company sponsored training, in which a truck driving company sends you to a truck driving school of their choice and pays for your cdl training. You will have to pay back the school loan by working for the company who sponsored your schooling once you graduate. That's right. There's no such thing as a free lunch and the trucking industry is no exception. Your second option is to attend a private truck driving school and pay for the schooling yourself. This is the option that most people choose because you can choose exactly which school you would like to attend and, after you graduate, you will have the freedom to work for any company that hires inexperienced truck drivers. Be advised though, private truck driving schools will require you to pay the full tuition up front. Most truck driving students pay their tuition through school loans, grants, and other forms of financial aid.
Choosing the Truck Driving School That's Right for You
      Let's say you choose option two. Your next question will most likely be, how do I go about choosing the truck driving school that is best for me? Good question. Here are some suggestions. First, decide if you will be attending school full-time, or part-time while you work. Ideally, you would want to attend school full-time so you could put all of your time and energy into your schooling. Next, decide if you want to attend a school that is local or attend a school where you will have to live away from home. Obviously, the latter will be more expensive, since you will have to pay for your own living expenses until you graduate.
Not All Truck Driving Schools are the Same
      Once you have narrowed your list down to a few schools, do some research and call the schools you are contemplating on attending. There are a few questions you may want to ask. How long is their truck driver training program? Is it only a few weeks or is it a few months? Do your best to avoid "CDL mills" that promise to have you certified in "two short weeks". Ask them what their average class size is. If possible, you want to choose a truck driving school with smaller classes, say, around ten to fifteen students per class. That way, you are more likely to have all your questions answered and the instructors will be able to devote more time to each student. How do they train their students during the hands-on portion of the program. Is it one-on-one training, or two, three, or four students in the truck cab at a time? How old or new are the school's trucks? Dirty used trucks are one thing but, old and outdated trucks are not what you want to be training on. Do the trucks have standard or automatic transmissions? You may also want to see if the school has a job placement program that aids their graduates in finding a good trucking job. Is the school accredited by the Better Business Bureau or certified by the Professional Truck Driving Institute? Write down as many questions as you can so that you will be fully equipped when you call the school. Keep in mind that most truck driving schools have two objectives. Their first objective is to give you the information and training you need to pass the CDL knowledge and skills tests, and their second objective is to teach you how to operate a commercial motor vehicle in a safe, competent, and responsible manner.
      Hopefully, this information will help you get one step closer to achieving your goal of becoming a successful truck driver. Remember, the journey on the road to a successful and fulfilling truck driving career is traveled one mile at a time! 
      If you found this article helpful, feel free to share it on Facebook, Google Plus, or Twitter using the "Share" button below.
      More information is available at the Bureau of Labor Statistics and Wikipedia.