#1 Rated FREE CDL Practice Test for 2021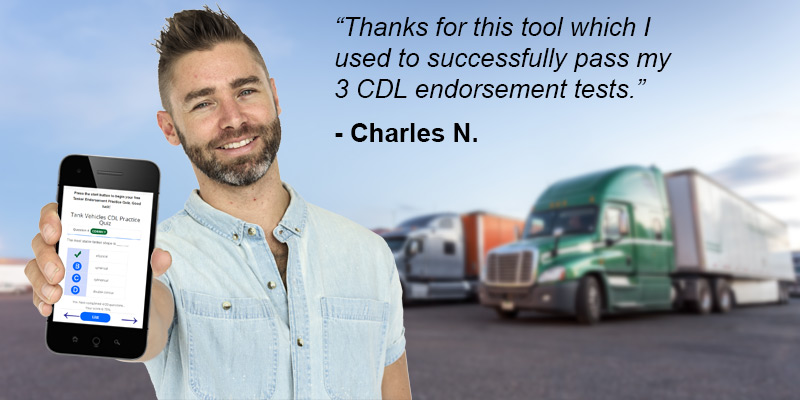 Try Our #1 Rated FREE CDL Practice Tests and

Know

Before You Go!
They say that practice makes perfect and that includes taking the CDL knowledge tests. You need to pass the CDL knowledge exams in order to obtain your Commercial Driver License and any CDL endorsements. Passing the CDL written exams isn't hard if you study the Commercial Driver's Manual ahead of time and know the material. To help you prepare for the CDL written tests, we have created our own CDL practice tests. Each practice CDL license test contains the same amount of questions as the actual CDL knowledge tests you must take and pass at the DMV. 
We have created both a practice quiz and a practice test. Our practice quizzes reveal the correct answer during each question to help you study for the CDL knowledge test. Our practice tests don't reveal the correct answers until the test is over. The questions and answers are given in random order each time you retake the test. When you are finished testing, simply click on the "Get Results" button to see your CDL test results. Clicking on the blue "List" button will reveal a list of all the questions you answered correctly and all the questions you answered incorrectly. To take the CDL exam again, just refresh your browser window. It's that easy.
How Many Questions Are on the CDL Written Exams?

The number of questions on the CDL written exams vary based on the type of CDL exam you are taking. We've listed how many questions are on each exam below:
What Percentage do you Need to Pass Each Exam?
To pass any of the CDL written exams you must score at least an 80% on the exam.
State-Specific Practice Tests
Need to take a state-specific practice CDL test? We have those too! Just scroll through the menu below and choose your state and take one of our state-specific CDL practice tests.

State CDL Practice Tests
Take our state-specific CDL practice tests by scrolling through the menu below and choosing your state.
Scroll & Select:
Our Free CDL Practice Tests Help You Pass the First Time
Did you know that the Bureau of Labor and Statistics indicate that the demand for truck drivers should expand by 5% between 2014 and 2024? As the demands for goods grows, more truck drivers will be needed to keep things flowing.
Because of this, we want as many of you as possible to take and pass your Commercial Driver's License (CDL) exams and get those endorsements. We have created seven different practice CDL permit tests to work as guides so that you can ace your CDL exam when the time comes.
No matter what endorsement you're testing for, our highly accurate and helpful CDL practice tests will help you pass the Class A CDL test the first time! Then you'll be one step closer to taking the CDL skills test and the CDL driving test.

Air Brakes Endorsement Test

Air brakes use compressed air as a safe and dependable method for stopping large, heavy vehicles. They are comprised of three distinct systems: parking brake, service brake, and emergency brake.
A service brake is used for braking under normal driving conditions, and it's only activated when you use the brake pedal. The parking brake system is activated when you use the parking brake control. As for the emergency brake, it lives up to its name: in a brake system failure, it uses parts of both the service and parking brake system to stop the vehicle.
After you receive your Commercial Driver's License (CDL), you're marked with an Air Brakes restriction that will remain until you pass the air brakes test. It's important to know that not every truck has air brakes, however. Those that do, however, may not always fall under the guidelines of a Commercial Motor Vehicle (CMV).
Passing this test is only required if you plan on operating a CMV that uses air brakes. If you happen to fail, that restriction will stay on your CDL, and you cannot legally drive a CMV with air brakes.
The Air Brakes Endorsement test will gauge your understanding of the workings of air brakes. You must grasp the concept of how to correctly inspect, use, and maintain your CMV's air brakes. The best way to pass the Air Brakes test is by studying your state CDL study guide (CDL manual) and taking our free CDL practice permit test.
A few of the questions you'll find in our Air Brakes practice exam include:
The air storage tanks are used to hold ______.

What should you do when you see the low pressure warning?

Vehicles equipped with air brakes are required to have a low air pressure warning signal. True or False?
Our Air Brakes Practice CDL Test is made up of 25 questions, just like the actual Air Brakes Endorsement Test.
CDL General Knowledge Test

If you want to get your CDL in the first place, then you have to pass the General Knowledge CDL permit test. Typically, the DMV CDL test consists of 50 questions, and has a passing score of 80% or higher. If you fail the exam, you will not be able to receive your CDL, and you will not be legally allowed to operate any CMV until you retake the exam and pass.
Here's the catch with the General Knowledge Test: sometimes, questions and answers can vary depending on your state. Because of this, make sure you read up on your state's CDL manual to see if anything specific jumps out. Otherwise, most of the questions will probably be the same or similar, so it won't hurt to try out our DMV CDL practice tests to get ready.
Another reason you should check with your state is to know when you can re-take the exam if you happen to fail it on the first try. For instance, in Washington, DC, you are eligible to take the test again after three calendar days have passed. On the other hand, in New Jersey, you must wait a total of seven days before re-taking the exam.
Always double check at your local DMV to see when you can take it again and if there is a limit on how many times you can take it. We don't want you to fail, which is why we have come up with these CDL permit tests for you to practice with. However, we also understand that things happen, so it is best to be prepared for anything.
Some of the questions in our General Knowledge practice CDL exam include:
What happens as a person's Blood Alcohol Concentration (BAC) goes up?

The two main causes of tire fires are ______ and ______.

How much stopping distance does a light, empty truck require, compared to the same truck fully loaded and heavy?
Our CDL Practice Test General Knowledge contains 50 questions, just like the actual General Knowledge CDL Test.
Combination Vehicles Test

For those of you looking to operate common combination vehicles (which just so happens to be most truck drivers), you must pass the Combination Vehicles Test. Combination vehicles typically include tractor-trailers and any straight truck that has a trailer attached. Again, this test is something the majority of you will need to pass as most of you will be operating trucks with trailers.
Combination vehicles also have doubles and triples as well, but that specific CDL permit test is touched on in the next section. Since combination vehicles are heavier and longer, there is an added amount of skills and knowledge needed in order to operate them safely. This test exists for that very fact.
Combination vehicles take more knowledge and skill to handle than single vehicles, so this exam will weigh your knowledge when it comes to the proper operation of them. There are 20 questions out of a possible 100 that will be asked, so brush up on your skills now. Generally, you will be asked questions dealing with trailer skids, wide turns, the risk of rollovers, and coupling and uncoupling. 
You must be ready for anything, as you need an 80% or higher to guarantee a passing grade. Fail and you obviously will not be able to operate these vehicles. Our free practice CDL quiz created specifically for combination vehicles will aid you in building and refreshing your knowledge on the subject prior to tackling the real exam.
A few of the questions you'll find in our Combination Vehicles CDL Practice Quiz include:
Why should you check the fifth wheel?

When you inspect the coupling, there should be no slack in the air lines. True or False?

You should never use the trailer hand valve when you are ______.
Our Combination Vehicles Practice CDL Test consists of 20 questions, just like the actual Combination Vehicles Test.
Doubles and Triples Test

Just like with the Combination Vehicles Test, the Doubles and Triples Exam is a must-pass in order to operate these types of commercial motor vehicles. Failing this exam will prevent you from legally driving multiple-trailer combination vehicles. As you are most likely already aware, triple trailers are not legal nationwide (such as the case in California), so be sure to check with your state's CDL manual on their legality.
The exam for doubles tends to be a knowledge test only, and you should not bring a truck hooked up to double trailers in for the driving portion of the test. Just like the Combination Vehicles test, you will need to score an 80% or better to pass this exam. You will be quizzed on all things safety pertaining to handling doubles and triples.
There are several things you have to understand to successfully pass this test, and our CDL prep test will touch on everything that may be covered in the real exam. You should be knowledgeable about inspecting your trailers, how to properly couple and uncouple them, and anything that can possibly go wrong with them. Understanding the air supply system is another topic to study and focus on.
When studying for the Doubles and Triples test, pay close attention to what you are to inspect and how you are to inspect it, as this is a very important section of the test. There are far more critical components in multiple-trailer vehicles than there are in single-trailers. Again, our practice questions cover what you may come across when taking the real thing.
Some of the questions in our Doubles and Triples CDL prep exam include:
All converter dollies are equipped with spring brakes. True or False?

When driving a double/triple trailer, the ______ load should be placed in the ______.

When coupling, what is the firs step?
Our Doubles and Triples CDL Practice Quiz is made up of 20 questions, just like the actual Doubles and Triples CDL Test.
HazMat Endorsement Test

Hazardous Materials (HazMat) are things such as various types of gas, flammable and combustible liquid, solids, explosives, and other similar materials. Whether or not a vehicle is transporting these materials depends on if the components within meet the required definition of hazardous materials in the regulations. As there is a clear public safety concern here, the test is rarely administered by regular DMV examiners.
Any vehicle that requires a HazMat placard must be driven by those who have passed the corresponding test. Once you pass this test, depending on which state you reside in, you will receive either an "H" or "X" on your commercial driver's license, indicating the HAZMAT Endorsement. Upon failing, however, you will be given a commercial driver's license without the endorsement, and you will not be legally allowed to drive any commercial motor vehicles transporting hazardous materials.
Government regulations can update and change over time, but we have provided the most up-to-date questions and answers in our CDL HazMat Practice Test. All drivers who wish to transport vehicles with hazardous materials must understand the security risk this poses. We encourage you to take our practice test to ready yourself.
There are certain other requirements you must meet beyond passing the exam. Nationwide, every driver has to undergo a federal background check and a federal fingerprint check. You also must provide the required documents needed to verify your identification and legal U.S. status.
Other federal requirements include undergoing training and testing, and also knowing that any vehicle transporting these materials must be labeled with the proper placard.
Some of the questions found in our Hazmat Endorsement Practice Test include:
Why do drivers placard their vehicle?

It is the ______ responsibility to make sure the hazardous materials have been packaged correctly.

When loading and unloading a cargo tank, the person in attendance must be within 50 feet of the tank. True or False?
Our Hazmat CDL Practice Exam contains 30 questions, just like the actual Hazmat CDL Test.
Tanker Endorsement Test

Getting a tank endorsement is required if you want to transport liquids and gases, but these materials do not necessarily have to be hazardous. Because of that, you can get this endorsement without needing to test for the HAZMAT endorsement as well.
This endorsement also only necessary if your vehicle is a Class A or B CDL, and if you are hauling these materials in a tank(s) that are greater than 119 gallons or a in a portable that is greater than 1000 gallons. Also, the CMV with these materials you plan on driving has to exceed 26,000 pounds.
You should know that if you are driving a CMV with an empty container tank attached to a flatbed trailer not meant for transportation and the capacity is at least 1000 gallons, then the vehicle cannot be labeled as a tank. As such, the endorsement is not needed since you are not driving a tanker.
There are special items that you have to check if you want to drive tank vehicles, and many of these are covered in the real CDL written test as well as in our free CDL prep exam. You should also know what special equipment such as emergency equipment you are required to have on you at all times and also that this equipment actually works.
Of course, failing this test will keep you from getting the Tanker Endorsement on your CDL, prohibiting you from you legally operating these types of commercial motor vehicles.
Some of the questions found in our Tanker Endorsement CDL Practice Quiz include:
Baffles in a tanker help to eliminate ______.

Which tankers have the highest risk of a rollover?

Stop valves in a cargo tank ______ during ______.
Our Tanker Endorsement practice CDL exam consists 30 questions, just like the actual Tanker Endorsement Test.
Pre-Trip Inspection Test

The Pre-Trip Inspection Test is perhaps the most important trucking test, and it is also one of the toughest ones to pass. It is a test designed to see whether or not you understand every feature and equipment on the vehicle that needs to be inspected. You must explain each step of the vehicle inspection process to the examiner, so be sure to study up on this by knowing the complete workings of your vehicle and also by taking our Pre-Trip practice exam.
Our Class A practice test should hopefully help narrow down the things that an examiner will be looking and listening for. You should understand the general condition of your vehicle upon first approaching, and then look for anything else that may stand out. This test is to prove not only that you understand the workings of your vehicle, but also if you are knowledgeable enough to know whether it is safe to operate or not.
The examiner will also want to see that you have accurately assessed any potential hazards that may surround the vehicle prior to driving. Be on the lookout for people, objects, and even other vehicles that can pose a risk.
You are going to have to check a number of components, from brakes to tires. Again, this is an important exam that you must pass. If you fail, every other test will be postponed until you successfully complete the Pre-Inspection Test.
A few of the questions found in our pre-trip CDL test prep include:
When inspecting the tires the ______ should not be missing, broken, or damaged.

During the pre-trip inspection, you should check to make sure you have which emergency items?

When you first approach the vehicle to perform the inspection, you shouldn't check for damage to the vehicle. True or False?
Our Pre-Trip practice CDL exam is made up of 50 CDL test questions and 50 CDL test answers, just like the actual Pre-Inspection Test.
Conclusion
Whether you're still in truck driving school and studying up for the General Knowledge written test or you're an experienced truck driver that wants to obtain CDL endorsements and open the doors for a better income, we've got you covered! Our free practice CDL exams will help you ace the real Class A CDL tests the first time! And, remember, you can take our free CDL prep exams wherever you are, as long as you have an internet connection, on your desktop computer, tablet, or smartphone. Take our free CDL practice tests and know before you go!
---
Choose a Free Practice CDL Exam Below
Take Our Free CDL Practice Tests at Home, at the DMV, or Wherever You Go!
Our free CDL practice tests have been created to work perfectly on high-end mobile devices, such as smart phones and tablets, as well as desktop computers, so feel free to do a CDL test study session on your smart phone to refresh your memory while you are waiting in line at the DMV.
Below you will see links to state-specific CDL Cheat Sheets and CDL Study Guides that will guide you through the process of obtaining your Commercial Learner's Permit and Commercial Driver's License. 
Here at Truck Driving Schools Info we give you the tools you need to "Know Before You Go!".
Check out the CDL Cheat Sheets and CDL Help Guides available for all 50 states.
If you found this article helpful, feel free to share it using the buttons below.